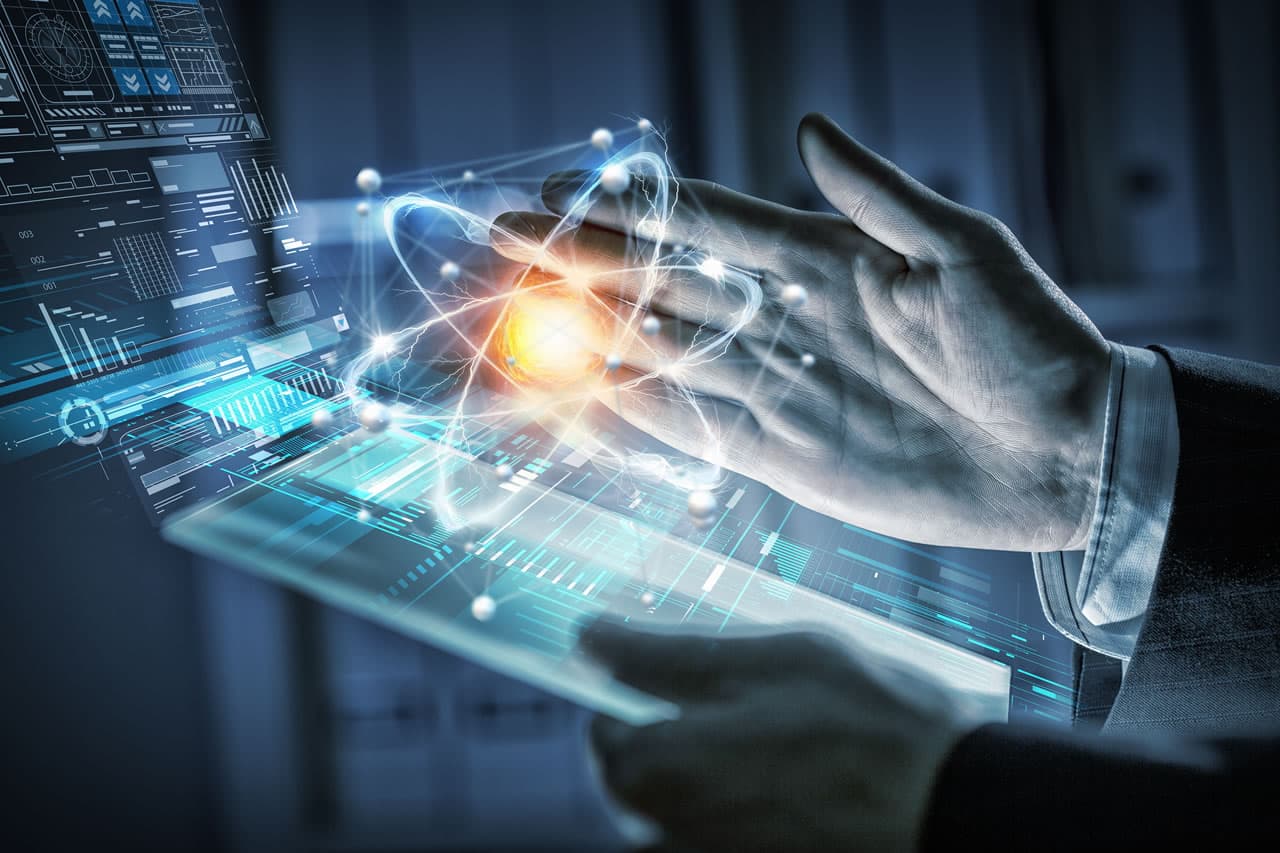 Published:
August 10, 2020
| by John Treadway
Cloud Services Global Delivery Models for Profitable Growth
The largest cloud services firms and product company PS organizations know that one of the key factors for profitability and competitiveness is to deploy a global delivery strategy. Creating blended cost structures with onshore and offshore resources helps you win more deals, drive higher gross margins, and have longer-term sustainable client relationships. Going global also means a bigger pool of talent and more diverse skills – valuable particularly in a growing business.
Many younger or less mature PS organizations find themselves at a disadvantage when competing against globally capable teams, often being priced out of deals or having to accept lower margins to compete. If you've ever heard "We love you but you're too expensive." or similar comments from clients and prospects, this could be a reason why.
If you're increasingly feeling the pressure or looking for new opportunities to compete, a good cloud offshore/global delivery strategy is worth a look. Microsoft recently announced a $1 billion cloud investment in Poland due to the very high talent, particularly in cloud. DevOps, cloud architecture, migration teams, application transformation and cloud-native modernization, cloud project/program management, IoT, and more – these are just a few of the cloud skills that you can deliver via global teams.
A common first step is to partner with one of the IT outsourcing firms – typically in India or Eastern Europe. In our experience with this model, the results can be a bit unpredictable. Some of the challenges of using offshore ITO firms to scale a services business can include:
Contractual Issues – contracts with your clients may prohibit "contractors" and that blocks you from using these teams. Your competitors with native global capability have employees in low-cost regions – they are not blocked.
Lack of Control – the team is not really yours and that means that you don't truly have control over hiring, firing, promotions, raises, bonuses, equity incentives, etc. It's also very easy for them to get reassigned. Instead of having control over retention, that critical factor is now controlled by the firm. Global teams at some of your competitors don't have this challenge.
Loss of Branding & Culture – in the local market, the employee brand is your partner's, not yours. They work on your projects, but they work FOR the outsourcer. It's not your name on the door or building. It's not your name on their badge or business card. It's not your company on their LinkedIn profile. It's not your brand, and it's not your culture. Your global competitors do have control over their brand and culture.
High Cost – the outsourcer is recruiting and hiring and then they mark-up the people that they "rent" to you with their margin. You are then adding your margin. But the globally-enabled competitors can charge clients the same resources at the cost you have to pay, and they still make their margin. Even if your clients are not balking at your higher price, you're leaving money on the table.
A Better Approach
At SquadGurus we have worked hard to create an approach that provides the flexibility, branding, control, and cost model that you desire for your offshore cloud teams without the time, expense and risk of forming your own subsidiary.
We call this model SquadGurus PEO FLEX.
PEO stands for Professional Employer Organization, and is an employer of record solution that allows you to "hire" employees in new countries quickly, at a low cost, and with full compliance and minimal effort. Legally, we are hiring them but in every other respect they are your employees.
Here's how the PEO model works:

SquadGurus legally hires your cloud team and our PEO model provides the services below. You treat the team as your employees – they go through your onboarding, orientation, training, account provisioning, etc. Any cloud certifications they earn accrue to your company. And so on….
SquadGurus provides:
Employer of record services
Payroll and benefits administration
Legal/compliance – low risk
Fast to start (days vs… )
Recruiting support
Benefits of the SquadGurus PEO model:
Your employees – most clients will not see them as contractors
Your management model – run your team as you see fit
Your office space and amenities – we can help you find and manage your location
Your hiring, firing and promotion decisions – these are your people
Your culture, rewards & recognition – this is critical for retention
Your training and certifications – invest in your team and reap the rewards
Your team assignments – no risk of losing key people to other projects / clients
Your compensation policy – pay scales, review cycles, etc.
Your benefits policy – adding in perks is a great way to differentiate in the market
Your equity plans (options, etc.) – you can apply your own equity plan model
Your tools & technologies – just like other people on your team
Your email & systems – we don't issue SquadGurus emails to your people
Your margins – instead of a high margin, we have a small management fee so your costs are low and your margins are high
Your market presence – when recruiting, hiring, etc. your logo is on the job boards and your team can refer their friends to work for you!
SquadGurus PEO FLEX is our hybrid model that allows you to scale up and down on a "flex" basis, combining your regular full-time team with FLEX Squads that operate more like traditional ITO teams. FLEX Squads are great for large projects and other activities where you know you may only need the teams for a set amount of time to get you through a delivery bubble.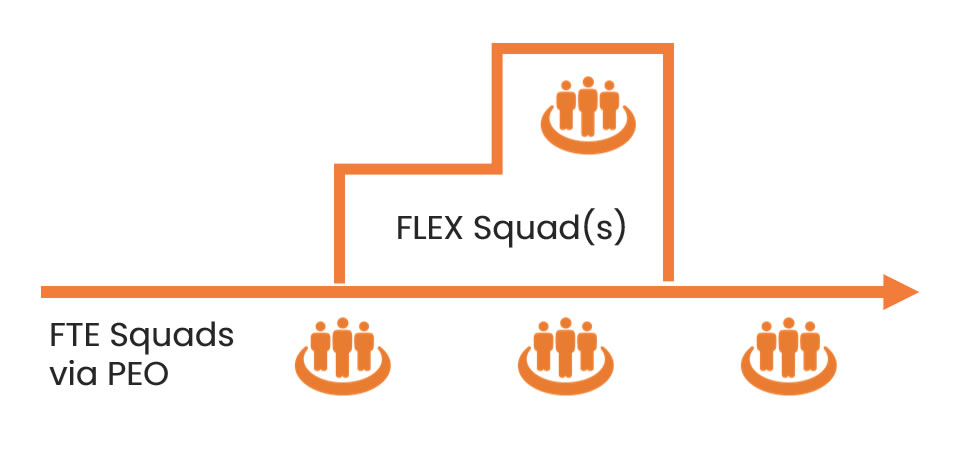 With SquadGurus PEO FLEX you have the best of both models (PEO and ITO)
– full-time dedicated employees (PEO) with the ability to scale for temporary additional needs (ITO). Best of all – if you end up needing these teams on a more permanent basis, you can convert to the PEO model with no penalty.
Building your Global Delivery Structure with SquadGurus
With the understanding of the model above it is now possible to to map out the right structure for your particular needs and business. Often PS firms/organizations will start with a small full time employee team (via PEO), augmented with FLEX Squads to manage capacity and utilization.
We will have to understand the types of skills you can leverage via our teams and work with you to balance the use of offshore resources as you scale your business. Done properly, you will be able to improve your competitiveness, margins and long-term customer value.
Getting Started
To learn more about SquadGurus PEO FLEX for your cloud services organization, or to get some help thinking through your global delivery model, you can schedule an appointment with John Treadway by going to SquadGurus.com and clicking the "Schedule Free Consultation" button (or just DM me here).
Our Mission
To provide the most cost-effective and flexible models to compliantly build and scale technical capacity in Central and Eastern Europe.