Introducing the SquadGurus Platform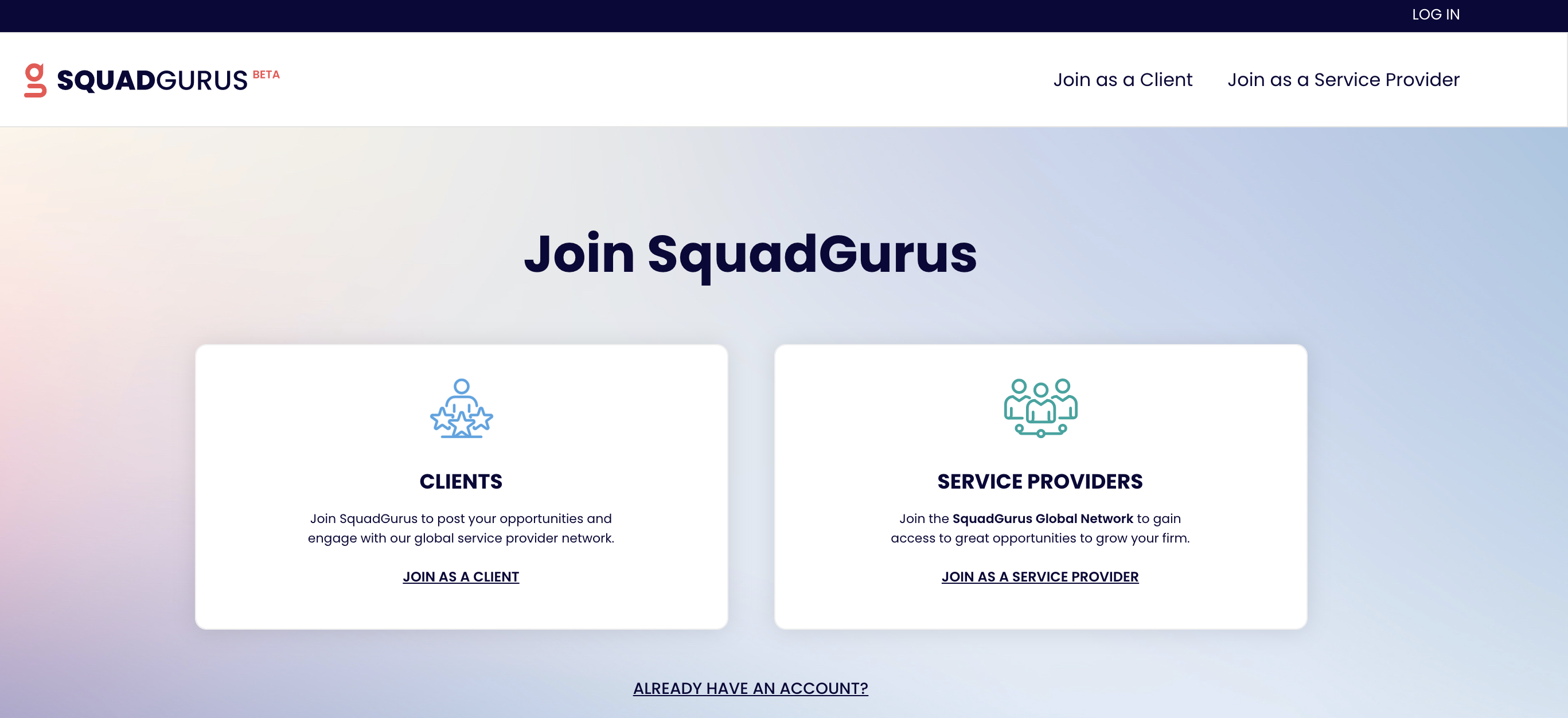 Published:
December 15, 2021
 | by John Treadway
SquadGurus Platform Launch!
Well folks, it's Champagne time!
We are all incredibly excited to be launching the SquadGurus platform today. We started our model and journey a year ago this month, and then began the development process in July. A little more than 5 months later, our platform is now ready for customers.
How it Works
Step 1 – Join SquadGurus as a Client
Step 2 – Load your "opportunity" into the platform or let us do that for you
Step 3 – Receive proposals from the SquadGurus Global Network of qualified and pre-vetted service providers
Step 4 – Qualify and select from the proposals with help from your Customer Success Manager
Step 5 – Contract, engage, and move forward!
It starts with your requirements.
What are you looking for and when? The SquadGurus platform allows you to post your services opportunities for our providers to see.
After posting your opportunities, the SquadGurus Global Network kicks in and provides proposals, candidates, or whatever you are looking for. Our customer success team screens the responses and helps you to narrow your search to only the best fit offers.
Here are some of the solutions the SquadGurus Global Network can deliver:
Software development, engineering and QA
Software refactoring & modernization to the cloud
Cloud engineering and DevOps / automation
Cloud migration
We will add more types of services officially in the future. However, if there's something you're looking for now, let us know and we'll see if we can address your need.
What are the other requirements you have that we need to consider?
Some factors may include:
Time zone – nearshore vs. offshore
Language & culture
Relatable references and qualifications
Cost
Delivery models
We then publish your needs to the SquadGurus Global Network, our database of screened and vetted provider partners in multiple delivery regions, to find one or more matches. We leverage our market knowledge and network to identify a range of providers with different skills, capabilities, and capacities and match this against your requirements.
Getting Started
Join SquadGurus – Join as a Client and either use the self-service portal to begin posting your "Opportunities", or work with your Customer Success Manager (assigned after you join) and they will help you get going.
Still not sure? Schedule an appointment to speak with SquadGurus.
Are you a service provider looking to join the SquadGurus Global Network? Apply to Join as a Service Provider, or schedule an appointment with the link above.
We can't wait to start working with you!
Our Mission
To bring you only the best solutions from leading and emerging global delivery locations. Our large and growing SquadGurus Global Network of provider partners can handle any time, size and duration of project or long-term need.